Ashley Hollingsworth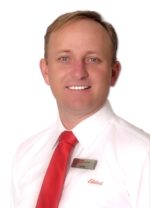 Licensed Real Estate Agent
Licensed Real Estate Agent, Stock & Station, Business Agent & Auctioneer
`I enjoy being part of the local community and assisting clients achieve the results they are striving for and allowing them to pursue the dreams they deserve.'
With over 23 years' experience as a Real Estate, Business and Stock and Station Agent I have enjoyed being part of the local market and assisting clients achieve the results they are striving for and allowing them to pursue the dreams they deserve.
I am focused on making great first impressions, whether that is when introducing myself to vendors and buyers or promoting your property, on our industry leading websites, at open houses or through the many inspections that I carry out every week. You only get one opportunity to make a first impression and I aim to make all first impressions great ones.
It's this attention to detail; wonderful franchise support and great listening skills that helps set me apart. If you are thinking of selling, please give me a call as I would be delighted to meet with you and discuss your options.
We are in an exciting time with regards to Real Estate at present, we haven't seen this level of interest in properties for 10 years and with interest rates still at all-time lows, now is the perfect time to list your property for sale. Backed by a great team I have the skills and support to make selling or buying your next property as easy as possible.
When not concentrating on Real Estate, I enjoy spending time with my two sons either on our family's beef cattle farm, along our magnificent coast, or through the numerous sporting activities that we are involved with.
I am always available to discuss your sale options and would be delighted to give you a free market appraisal. If you would like to arrange a time please phone 0447 10 77 44 or the Forster office on 02 6555 2188 or alternatively email ashley.hollingsworth@eldersrealestate.com.au to arrange a meeting.
02 6555 2188
02 6555 2199
0447 107 744