Peter Camilleri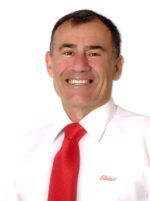 Sales Consultant
Elders Forster are excited to introduce Peter Camilleri as the newest member of our growing office.
Peter is a well-known local, having lived in the area for 30 years and has been involved in the community through small business and the numerous fitness and sporting events that he has organised or played a major role in.
A fitness fanatic, Pete has competed at the highest level in Ironman events including the Ironman World Championship held in Hawaii.
It is this dedication and passion that makes us believe that Pete will be an ideal fit for our business. Real Estate requires a huge commitment of time, energy and focus - all skills that Peter has loads of.
Peter is a true people's person and enjoys making connections with people throughout our area. If you are thinking of selling whether that be now or some time into the future, feel free to contact Pete, either at our office at 11 Wharf Street, Forster or on his mobile 0404 835 060.
02 6555 2188
02 6555 2199
0404 835 060